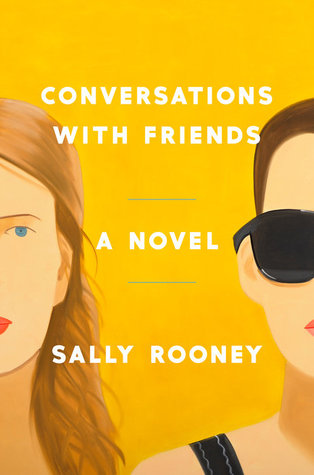 Goodreads Link
This book was recommended to my by a bookseller (whose name I stupidly forget to take down) at my local bookshop (Toppings, Ely). This is what she had to say about it:

Sally Rooney has a wonderful understanding of the way people work.
This book is just an excellent look at how millennial life can be lived.
Everybody should be reading her.
Rating: 5/5 Buttons
About the book…
Conversations With Friends is a snapshot of the lives of Frances, her best friend (and former partner) Bobbi, and their new, married friends Nick and Melissa. When Frances finds herself kissing Nick at a party, the pair begin a complicated affair and set in motion a chain of events that could lead to bliss, or heartbreak. Conversations… is a beautiful look into the world of queer and non-monogamous relationships.
Trigger Warnings: This book contains references to sex, self harm, alcoholism, mental and physical health problems. I think that's everything.
What I thought…
The first thing to say is the Conversations With Friends is not the kind of book that I would usually read.
The second thing to say is that from now on, it definitely IS the kind of thing I'm going to read.
I'll start with what drew me to the book. The honest answer is, I really don't know. I had a stack of recommendations in front of me and something about this unassuming yellow paperback, that is nothing like anything else I've ever read just called out to me and I took it home. It might have been a subconscious yearning to read about queer relationships, but I really don't know.
The story itself is all about the characters, Frances, Bobbi, Nick and Melissa. Frances in particular is amazing. Frances is hard to love at times, but easy to root for. I found her so relatable in so many ways. Her struggle to handle intimate attachments was so natural and believable. In her darkest moments, Frances looks back at old conversations with Bobbi, just to prove to herself that if everything else fails, once upon a time she had meant a lot to somebody. She struggles with self harm and body issues. Her romantic entanglements leave her confused and desperate to figure out her place in the world in relation to everyone else. I found it impossible not to see bits of myself in Frances, good and bad, and it made me feel a little less alone. The other characters just as well rounded and thought out.
The story in itself was engaging, I read the whole book in three sittings, and oh boy was it emotional. Rooney takes you effortlessly through a whole host of emotional states as the story progresses, and it's so easy to feel what the characters are feeling, even if you haven't experienced it yourself. I often found myself just wishing Frances could see the good in her darkest moments, but I knew that she couldn't, and it was heartbreaking.
Finally, a note about adult content. It wasn't until I had started reading this book that I suddenly realised that a book about adult relationships could very well have sexual content, which I'm really not that interested in. So I was worried about that. This book does have sexual content, but it isn't explicit, or at least not gratuitous. It's sex mentions and a small amount of detail, not pages and pages of smut.
Final Thoughts…
I'm super pleased that my first Professional's Choice pick was such a rousing success. I would recommend this book to anybody who wants a beautiful story about life and love and sorrow. It is beautifully written, wonderfully engaging and a really super read.
I will definitely be picking up Normal People (Sally Rooney) next time I'm at the bookshop.