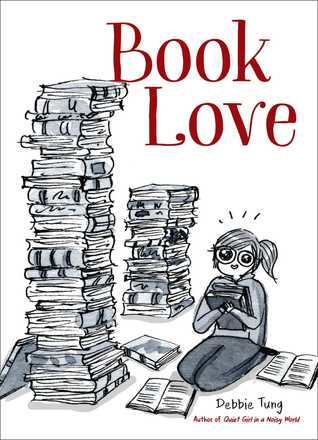 Goodreads Link | Author Website
The perfect book for the bookworm in your life
TL;DR – A collection of cute comics about loving books
Ragdoll Rating: 5/5 Buttons
Recommended For: Every book lover everywhere.
About the Book…
Book Love is – and this may shock you – a book about loving books. *gasp*. But in all seriousness, this book is a collection of comic strips about books and the people who love them.  It's about 140 pages of hilarious observations of bookish people everywhere.
What I thought…
I don't know Debbie Tung, we've never met, and until just now I didn't know she existed. However, we are now best friends because of this book. I don't make the rules. This book is hilarious from beginning to end. I found myself reading a couple of strips and thinking "That is so me" only to turn the page and find myself in fits of laughter at the next strip.
The observations in this book are SO accurate. I look through this book and if a strip doesn't sound like me, I know someone bookish it fits perfectly! It's hard to explain the beauty of a book of comics without any actual pictures – so just take me word for it that the pictures are cute as heck and then read my favourite line.
Happiness for bookworms:
Following your favorite authors on social media and acting as if they're your friends.
Final Thoughts…
If you are a reader, or you know a reader, get this book. Trust me, you'll love it.
___________________________________________
Please Note: I received a copy of this book via netgalley in exchange for an honest review. The opinions contained within are my own and have not been influenced by any external entity!