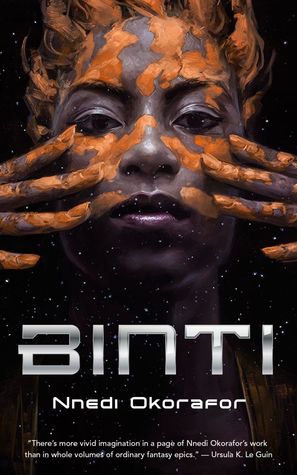 Goodreads Link | Author Website
You can't go far wrong with a Space Octopus!
TL;DR – Octopus aliens take over a spacecraft and only Binti can prevent a massacre when the spacecraft lands at Oomza Uni.
RAGDOLL RATING: 4/5 BUTTONS
What I thought…
My TL;DR above does not adequately or even appropriately describe what this book is about – but frankly that's why I'm not an award winning author. This book is about space octopuses murdering a ship full of people. But it is also (and more importantly) about a girl who leaves her people, breaks away from all her traditions to pursue an academic career. It is about family, and culture and all sorts of other important topics too.
It took me a little while to get into this book for one reason – Binti keeps talking about mathematical things, like fractals and equations and all sorts. I know nothing about maths, apart from the basics. I've heard of fractals, but the rest could be all made up or it could be real and I'm not sure which it is. However, once I decided that it probably didn't matter what exactly those little bits meant (I mean I don't know what 'wingardium leviosa' actually means, but it didn't stop me enjoying Harry Potter) I found story really clever and interesting.
I'll definitely be getting hold of the other two books when I get a chance.
___________________________________________
Please note: I am in no way affiliated with the author or publishers. I bought this book with my own money for my own reasons. The opinions contained within are my own and have not been influenced by any external entity!