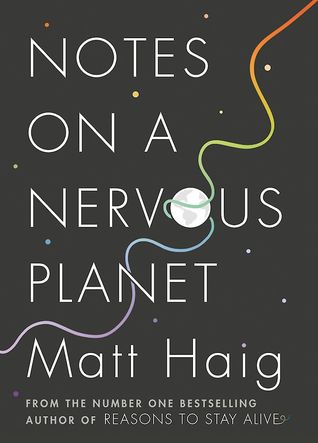 Goodreads Link | Author Website
Insightful, thought provoking, and very, very real.
TL;DR – This book takes a good, hard look at anxiety, grabs it by the collar and yells "Not today!"
RAGDOLL RATING: 5/5 BUTTONS
Why I read it…
My mum used to read my chapters of "Reasons to Stay Alive" at night, during one of my worst periods of mental ill-health, I'm not sure how much of it I took in, but it just seemed that reading Haig's latest offering would be a good idea during my most recent mental health crisis.
The Book…
I suppose you could call this book a self help book, but that doesn't cover it. More accurately, I supposed it is a collection of 'anxiety things', bunched together into a really helpful little manual.
The purpose of the book is to take a good hard look at anxiety, it's effects on society, and societies effects on it. Through personal stories, quotations, lists and data, Haig takes us through the world of anxiety and offers us things we can do to combat it.
I suppose the big take-away from this book is that modern society is a breeding ground for stress and anxiety, and human beings have not had time to adapt to it. BUT, there are ways to make things feel that little bit better.
This book isn't going to be a one-stop cure for anxiety disorders, and it isn't supposed to be. It's just a collection of useful information and tips, to make something really bad, a little easier.
What I liked…
I suppose the thing I like most about this book (and "Reasons to Stay Alive") is the fact that Matt Haig doesn't hold back on his personal experience. He's not afraid to stand up and talk about his mental health, and to talk about it in detail. One of the parts that stuck out most for me, was when Matt talks about having a panic attack in a shopping center – being surrounded by crowds, being in tears and feeling like the worst has happened. It stuck out for me because I've been there, but also because outside of a group therapy session I've never heard anyone talk about that before. It's one of those things that are really hard for people to understand, because they don't necessarily make sense. These stories of his personal struggles – and the distinct lack of pointless psycho-babble and other rubbish – make the book really relatable, and help to make the rest of the book easier to engage with.
The problem with a lot of books on anything mental health related, is the tendency for them to be written by people who have never personally experienced the things they are talking about, written using a whole bunch of technical sounding terms that tend to just come off as annoying. THIS BOOK DOES NOT DO THIS. The whole book is written in really simple language – as if Haig was sitting in the room telling you his story, instead of you reading it. It's comforting, and much more approachable. But he also only gives you advice he has tried, and more importantly, he admits the bits of advice he finds hard to follow himself, or that he isn't very good at doing. It is infinitely easier to follow the advice of someone you  just know understands how overwhelming the advice seems. Someone who freely admits they should be doing something, but they aren't good at it. Stuff they are trying to get better at.
I also love the way that the book puts focus on the way modern society affects us and can cause us considerable stress and anxiety. Haig explains how elements of society, for example shops or social media or news rely completely on people not feeling content. Feeling they need more, or that something isn't 'quite right'. How social media is designed to reward extremes of opinion. Or how the constant stream of camera-phone footage of horrible things happening, can make us feel more involved but also more scared of current events than we ever have been before. He also talks about how many of the things we do day-to-day, are like an addiction. Compulsively checking social media, or taking quick email breaks instead of focusing on one thing at a time. It's hard to take in frankly. But it is true – I didn't realise how many random marketing emails I saw every single day until I started unsubscribing from them as a result of reading this book.
Obviously Haig isn't the only person ever to have spoken about this kind of thing, but he is the only person I've come across who managed to put it so clearly, and so obviously that I felt compelled to do something about it.
One final thing I loved about this book was the format. This book has no consistent structure. It is, as Haig puts it, 'intentionally disorganised'. Each chapter starts with a quote or two, and then the chapter is broken up into seemingly random segments. There are lists, personal stories, data from psychological studies, advice, analysis of society, anxiety and stress…and so on. The reason I love this formatless format so much, is because it makes the whole thing so much easier to take in. You don't get pages and pages and pages of advice from someone who doesn't care if you follow it or not. You don't get long explanations of complex quotations from someone who cares more about coming across intellectual than a 'real' person. You get little bits and pieces. Here a story about panic attacks, there a list of things that have gotten faster in recent years, here a bit about addiction and social media, there a little happy thought or bright idea. Mental health is hard to read about, especially when every story can trigger memories of your own – but this quirky little format experiment breaks it all up, and makes for a peculiar, but brilliant read.
What I disliked…
I didn't dislike anything about the book. I disliked how I felt reading it at times, but that is obviously not Matt Haig's fault.
One thing you should note, is that Matt does talk about suicide at times so if that's a trigger for you, be aware.
Final thoughts…
This book made me feel a little less alone. I think everyone should read it, just to get a real, pure look into mental health problems.
___________________________________________
Please note: I am in no way affiliated with the author or publishers. I bought this book with my own money for my own reasons. The opinions contained within are my own and have not been influenced by any external entity!